Mumbai (Maharashtra) [India], January 19 (ANI/PNN): Sangeet Natak Akademi to celebrate the diverse performing arts of India to mark 75 years of Independence. The young artists will feature at a 4-day festival in Mumbai to witness the festival of music, dance, and drama.
Sangeet Natak Akademi, the National Academy of Music, Dance and Drama, is an autonomous organization of the Ministry of Culture, Government of India. Since its inception, the Akademi has been functioning as the apex body in the field of performing arts in the country, preserving and promoting the vast intangible heritage of India's diverse culture expressed in forms of music, dance and drama. In furtherance of its objectives, the Akademi coordinates and collaborates with government and arts academies of different States and Union Territories of the Union of India, as also with major cultural institutions in the country.
Youth is the energy of the nation, the future of a country. Keeping in tune with the spirit of Azadi ka Amrit Mahotsav, Sangeet Natak Akademi is celebrating 'Amrit Yuva Kalotsav' - a series of festivals to showcase the talent of young artists and the continuum of our myriad performing art genres, traditions and expressions. Envisioned by Dr Sandhya Purecha, Chairman, Sangeet Natak Akademi, 'Amrit Yuva Kalotsav' is a concerted effort of the Akademi with cultural institutions from different parts of the country to bring the budding generation closer to its roots.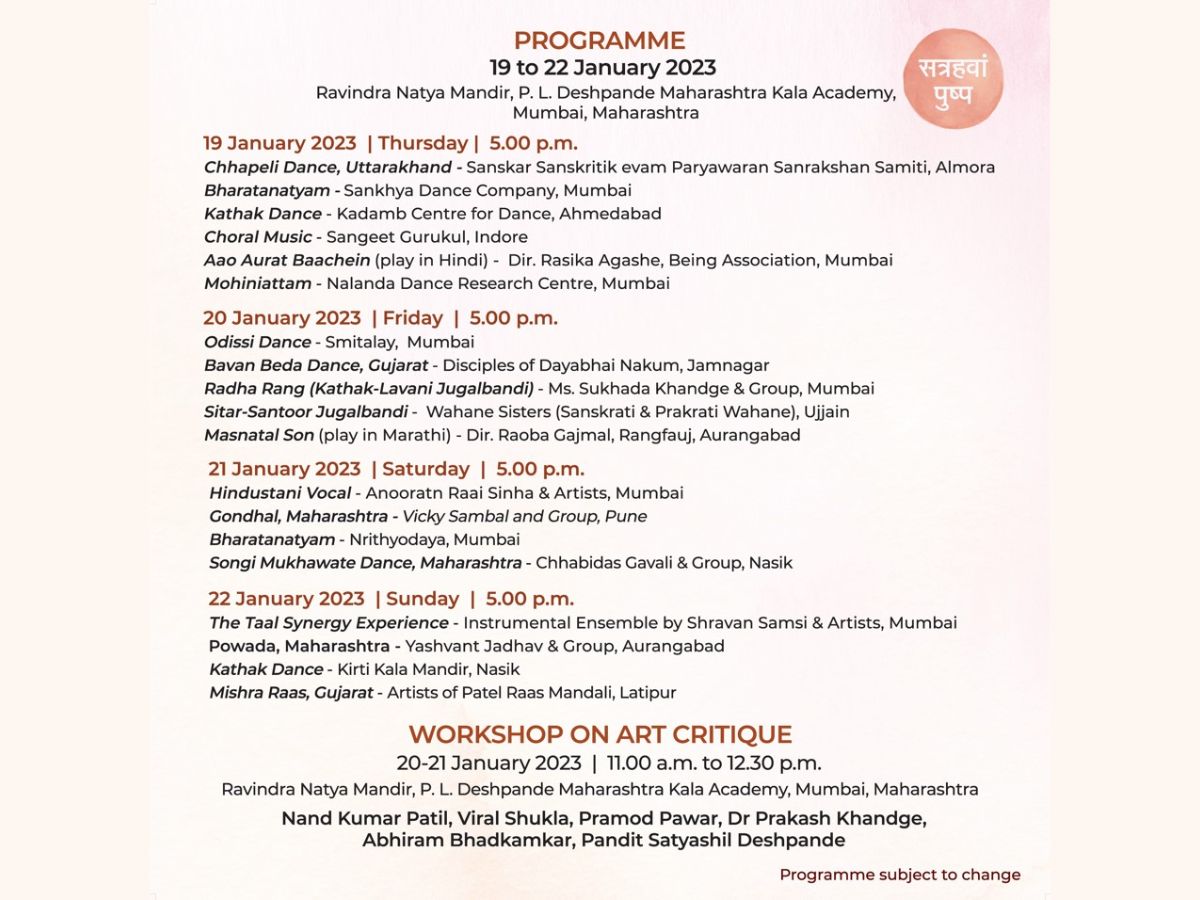 For this event, Sangeet Natak Akademi is collaborating with P.L. Deshpande Maharashtra Kala Academy, Mumbai. The programme will be inaugurated by Shri Sudhir Mungantiwar, Minister for Cultural Affairs, Forests and Fisheries, Government of Maharashtra, on 19 January 2023, 5:00 p.m. at Ravindra Natya Mandir, P.L. Deshpande Maharashtra Kala Academy, Mumbai, Maharashtra, in the presence of Dr Sandhya Purecha, Chairman, Sangeet Natak Akademi. The evening presentations will be from 19 to 22 January, 2023 at Ravindra Natya Mandir, P.L. Deshpande Maharashtra Kala Academy, Mumbai, Maharashtra, where you can witness the rich diversity of India's performing arts, including Chhapeli Dance, Bavan Beda Dance, and many more. The festival will also include a workshop on Art Critique in which senior experts, art critics, and scholars will participate and share their knowledge acquired through their vast experience. It will be organized on 20 and 21 January 2023, 11:00 a.m. to 12:30 p.m.
This is a unique endeavour of the Akademi to revive the interest of the youth in the performing arts of India as India enters its Amrit Kaal, where the future of the country will be built on the foundation of its glorious past.
This story is provided by PNN. ANI will not be responsible in any way for the content of this article. (ANI/PNN)