New Delhi [India], January 11 (ANI): The Indian cricket fraternity took to social media to extend birthday wishes to the legendary batter and current head coach of the national team, Rahul Dravid, who turned 50 on Wednesday.
Board of Control for Cricket in India (BCCI), the governing body of the sport in India, tweeted, "509 intl. matches 24,208 intl. runs 48 intl. centuries Here's wishing Rahul Dravid - former #TeamIndia captain and present Head Coach of India (Men's team) - a very Happy Birthday."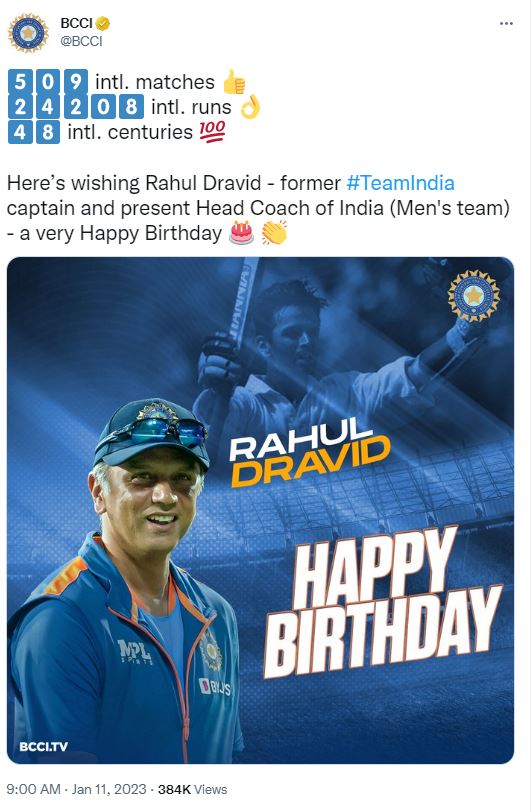 Star Indian batter Virat Kohli took to Instagram to share a story wishing Dravid a very happy birthday.
"Happy birthday Rahul bhai. Best wishes," said Virat in his story.


Royal Challengers Bangalore (RCB), an Indian Premier League (IPL) franchise Rahul was associated with during the early years of the league, also extended wishes to "one of the greatest torchbearers of the game".
"Here's wishing one of the greatest torchbearers of the game, the first Royal Challenger and the current head coach of #TeamIndia, Rahul Dravid, a very Happy Birthday! #PlayBold," tweeted RCB.
India's star T20I batter Suryakumar Yadav also wished Dravid on his birthday and thanked him for giving him "space and freedom" to be himself on the field.

"Happy birthday Rahul sir! You are an inspiration and a legend! Thank you for giving me the space and the freedom in the team to go out there and be myself on the ground!," tweeted Suryakumar.
Legendary Indian all-rounder Yuvraj Singh also posted a story to extend his birthday wishes to Rahul Dravid, calling him by his nickname 'jam'.
"Happy birthday jam! #GreatWallofIndia #RahulDravid," said Yuvraj's story caption.


Indian opener KL Rahul also wished a very happy birthday to a "cricketer who personified class and consistency".
"Happy birthday to a cricketer who personified class and consistency. Here's to many more years of inspiration Rahul bhai," tweeted Rahul.
Indian bowling all-rounder Washington Sundar also tweeted, "Many happy returns of the day, Rahul sir!"
This batting legend has represented India in 164 matches and has scored 13,288 runs at an average of 52.31. He has 36 centuries and 63 fifties in the longer format, with the best score of 270.
In 344 ODIs, Dravid scored 10,889 runs at an average of 39.16. He has 12 centuries and 83 fifties in the format, with the best score of 153.
He scored 31 runs in the only T20I he played for India.
Rahul has also represented RCB (2008-2010) and Rajasthan Royals (2011-13) in IPL. In 89 IPL matches, he scored 2,174 runs at an average of 28.23. He has 11 fifties under his belt in IPL and has scored his runs at a strike rate of 115.52. (ANI)